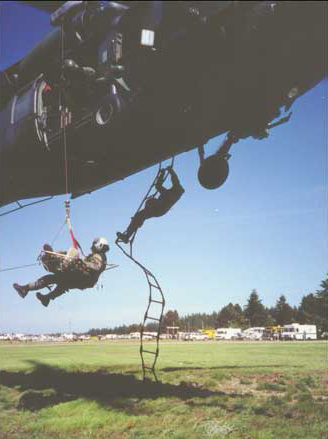 304th Combat Rescue Squadron - at last conference.
(
more pics
- use 'Back' to return)
For this year's conference we worked with various agencies to provide aircraft and crews for training.
As in past trainings we've had with folks like MAST, 304th and Coast Guard, we do aircraft familiarization, cold loading, hot loading and tagline operations. For the pre conference each agency had a four hour block of time available for whatever they'd like to offer.
Wven with the cancellations, the Air Ops part of the Pre Conference and Conference seemed to go fairly well.
Our hope was to bring this all together in a way that promotes a clear understanding of the various capabilities these agencies have.
Agencies who made it were: LifeFlight, Hillsboro Aviation, Coast Guard Group Astoria, 304th RQS, 36th Rescue Flight, and JL Aviation. We are very grateful for their help in making this happen!
I'll try to get some photos from the training evolutions posted here soon.
A heart felt Thank You to all who participated!
John Carlson